I was at Plockton on the West Coast after staying in the incredible Station House by the railway line. I said good-bye to Lyle and Judy who had a long drive South and planned a bike ride. The road to Applecross is getting repaired near Lochcarron and it is a convoy drive past the cliffs and the rockfall that is ever-present that is a constant battle with nature. For a short piece you travel on the railway line!
Later than I hoped to get started I had wander on the bike from sea level past Kishorn along past the Cioch of Applecross on the bike and up near Bealach Na Ba Applecross ' the jewel.
It is a place I love with the cliffs right down to the road it has some classic climbing in summer and winter. I have climbed here often it is so accessible as the road is so close. It is so like Wales or the Lakes to me and a wild place with the great cliffs towering above the road and with the sea nearby this is a special combination.
Sadly the road is so busy this is the North Coast 500 country. It is a massive attraction now yet this small single track road struggles to cope with the traffic. This is just a piece of the route and it would be good if they add on each bit please drive courteously on each page, most do but there are a few idiots.
A land of breathtaking landscapes, secretive hill lochs, mist shrouded mountain peaks and Mediterranean style beaches. Drive through thriving communities with a vibrant culture stretching back thousands of years to the Neolithic ages.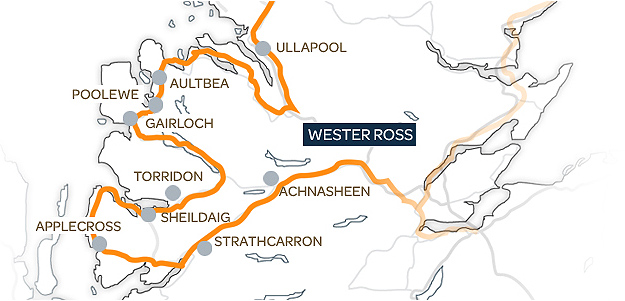 A truly stunning area of extravagant landscapes, lochs and roads, your NC500 journey will really begin to light your imagination as you drive.
Yet it is great for folk to see a part of Scotland but why rush through? I should have left earlier and was stopping nearly every lay-by for cars camper vans as big as houses on wheels. The motorbikes were about but they were very courteous.  It was  getting awfully dangerous  so I decided to get back the big camper vans were the worse.
As I was coming back down I then had a nutter who came flying round a corner tyres smoking. It was like a film, he was out of control. He was Completely unaware of who or what was on the road and when I shouted at him to slow down he came back screeched to a halt. He explained graphically and told me this was a road to enjoy and to F …… off back to England !
Charming man sadly full of road rage , why I will never know and just what I needed today  I did not take him on and peddled off.
Sadly I did not get his number but he was a young lad in a red knackered sports car. He was on something drugs or drink ! I legged it I am to old to battle nowadays and was worried he would come back and knock me off my bike. You meet all types but I will meet you again ! That really spoiled my day !
I hope whoever you are you get bad Karma.
It was a stunning day though but that shook me .I hope to get back to the Beleach and have a very early start next time !We could do with some Police presence about! That road that was such a place is some scary road now ! Progress or ……,,,,,,,,,,?
__-_
It was then calm down get back to the car. It was a lovely day but spoiled it for me and I did feel threatened. Is that an age thing? I hope he did not kill someone with his driving the skid marks are on the road still!
It was then head back enjoy the views and the sun! I popped in to see a friend but they were not in so no "TLC" Yet I loved my visit I did not really have the time but spent time with friends that mean a lot to me!
The world had a few head-cases I just met one ! Yet what a place to be.